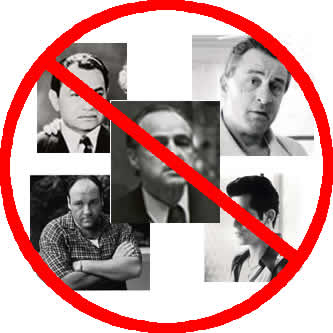 I hate mafia media. Always have, always will. This stems in part from hating to see any group of people clumsily live down to ethnic stereotypes. ("Gangsta" anyone? Who'd have thought that 40 years after the
Black Panthers
you could
sell prison clothes
to black kids
voluntarily
? We have, collectively as a nation, learned nothing over the past few decades.)

This also stems from my partial Italian heritage; seeing your own genetic brethren acting like dago apes for cash always puts the boot in a little harder.
My maternal grandfather was an Italian immigrant who grew up speaking the language at home. His father died w
hen he was very young, he dropped out of school in his pre-teen years, taught himself t
o read English better through newspapers, and worked two jobs even after the first heart attack to earn an honest living for his family. He got all of about 3 years' retirement in before the second heart attack killed him.
This was the Italian-American experience for the most part, typical of just about any immigrant group; an honest, hard-working life with small rewards when you were fortunate.
This is not the way the group is portrayed in the media. More than anyone other group of "whites" (a group Italians were excluded from in the early 20th century), it's more than OK for Italian-Americans to be portrayed as brutal, ignorant, criminal apes. Worse, most of the people doing the writing and acting
are
Italian-Americans, at least genetically if not culturally, which lets everyone feel good about the venture in the way that having a handful of tapdancing watermelon-munching darkies and
pancake-griddlin' Mammy characters in the movies at one time made the average American feel pretty secure in their anti-African racism. Note that I didn't say that

The Sopranos

is the precise same thing as Al Jolson... it is, however, a lot closer than most would like to admit.


Imagine a TV series called

Those Eternal Jews!

, in which we track the fortunes of Morty Schwarz and his ever-kvetching wife and princess daughter, all trying to schlep their way through the day in the family pay-day money-lending business in a redlined neighborhood. Naturally there are two sets of books,

oy vey is mir

. But don't worry, folks, these are

really intricate characters

and

intriguing plotlines

, thus the show "transcends cliches."

Shame on the lot of them. For starters, any organized crime group targets its own ethnic group first. The Italian mob hurt honest Italian immigrants more than anyone else. These people aren't heroes, they were/are scum. My grandfather was a hero of sorts; he built America. His brother helped kick the Nazis out of France.
You like organized violence, Scorsese? Make a fuckin' movie out of that, you minstrel monkey!
In fact, make a movie that

isn't

about organized crime once every 5 years why don't ya. You know who makes a killing from the mafia? Scorsese and Coppola! (My grandfather had an improperly set broken hip from being hit by a truck on a bike while
delivering clothes my great-grandmother laundered. He walked with a limp the rest of his life and thus wasn't drafted into WWII. Needless to say these were

not

people with "connections" who leeched off of society.)


Criminals? By and large they're not smart, not dapper, not charming and not even really all that interesting as individuals. For the most part they're
complete cowards
("...
as Mafia boss Angelo Bruno and his driver John Stanfa sat in a car outside Bruno's row house in South Philly chatting and smoking cigarettes, a gunman stepped out of the shadows, leveled a shotgun behind the "Docile Don's" right ear and pulled the trigger...
Bruno was getting old and
losing control of the family and needed to be moved aside...
Scarfo would eventually be brought down by his own people. From 1987 to 1989, five made members of the Philadelphia mob would become government informants. ... Louis Turra killed himself early in 1997 while awaiting trial on racketeering charges.") and
total
incompetents
("
Scarfo gunman Salvatore "Wayne" Grande approached and pumped five bullets into the little man. Incredibly, Riccobene wrestled the gun away from Grande who was 100 pounds heavier and nearly 50 years younger. ...
A shotgun blast from Pedulla knocked Testa off a wooden crate he was seated on, and nearly severed his left arm. Although in critical condition, Testa survived and looked forward to the day he could return to the fray
. ...
Meanwhile, Harry, who had made a quick recovery from his wounds in June, was the target again in August. As he was sitting in his automobile, a gunman, disguised as a jogger, ran by and emptied his gun into the car. Miraculously none of the bullets hit Riccobene.")
The history of the Philadelphia Italian mob in the past few decades in particular is one of an inability to fire a loaded gun at a usually unarmed person from close range and kill them. "
Scarfo gunman Nick Car
amandi ... talked about stalking Harry [over 70 at the time!] and later Mario Riccobene all over the city. He said the hit team would sometimes work from 7 a.m. until late into the night. They staked out Riccobene's stepmother's home, girlfriend's apartments, the homes of friends and business associates, all in hopes of getting an open shot at their adversaries." The Riccobenes weren't The Flash and the Green Lantern mind you, they were septagenarians without bodyguards.

In short, the mafia was real, were uninteresting scum, they were a tiny minority of a law-abiding ethnic group, are increasingly irrelevant and don't deserve our attention. The macho ape stereotype is BS, the pinstriped suits and greasy hair are BS, the empty claims of some 20 year old Cherry Hill-born dangling cornucopia-wearing prick having some Sicilian - it's never a Sardinian, is it? - cousin somewhere who'll "take care of you" for him if someone scratches the paint job on his Honda because that's all the media has taught all of us about his genetic heritage is BS. I wince when I see these representations in the media and idiots feeding off of it the way I imagine African-Americans flinch when Mike Tyson talks.

All of this is better expressed by the wonderful piece The Legacy of the Mafia Minstrel Show by Steve Antonuccio, and by this awesome letter to a North Jersey paper.

If you really feel the need to be entertained by Italians, read

The Decameron

while listening to Verdi.