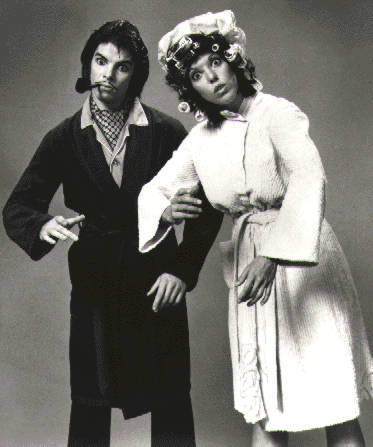 The dynamic duo known as

Group W

won at Frank's for the 9th time in 13 attempts this week, defeating two-time champs

Lil' Roy Screams Again

150-136 and topping 9 other teams in a heavy turnout, high-energy game. As always my attempt to photograph them went awry, and although I snapped a shot of the pair enjoying their winnings at a booth, when I developed the negative I ended up with what appears to be a promo photo of America's most favorite '70s mime couple, Shields & Yarnell.



I Don't Know!

had a miserable 39, and then screwed up further by leaving before I announced winners, depriving themselves of the Last Place Prize. This was then awarded to the one-man force known as
Alex, I'd Like to Buy a Vowel for $200
, who went home with a copy of

Quarto

. This was the second week in a row that the Frank's Last Place Prize was a game beginning with "QU-." Here we see

Alex...

displaying his Tiger Style Quizzo Sucking technique.

Grrrr.

In the other extreme, third-place

Prufrock

played largely on his own and scored a 110.



Scores follow:



Beautiful Gold: Group W 150


So-So Silver:

Lil Roy Screams Again 136


Shameful, Shameful Bronze:

Prufrock 110

Also-rans:

Chamavaly 102
All Mixed Up 91
Paper Chase* 90
Circle Jerk of One 85
Peter's Choice 79
I'd Pee in Her Butt If Rob Was Here 63
Alex, I'd Like to Buy a Vowel for $200 59
I Don't Know!* 39

* indicates team arrived late &/or quit