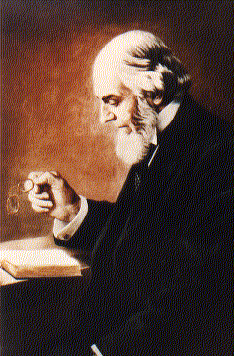 In the Unreasonably Difficult round at Frank's this past week, I asked what religious sect was founded by Charles Taze Russell in Pennsylvania in 1870.
I expected the answer Jehovah's Witnesses, which perhaps one team answered correctly. Most teams answered Seventh Day Adventists. After announcing the answer I was loudly denounced by at least one person, who felt the need to shout
"You're wrong, Chris, you're wrong!"
He wanted no part of betting me $100 on that one, though. I make that offer when people challenge the answers, I believe 3 times now, and no one ever takes me up on it. That's a shame, as I'd be a bit richer if they did.
First off, the SDAs were founded in the 1830s-1860s (formally in 1863)
in upstate New York
in the ashes of the Millerite movement. In fact their origins can be traced to an insane mass delusional event called the
Great Disappointment of 1844
. No Russell, no PA, no 1870.
Russell, however, was a
separate nut
who founded what's now known as the Jehovah's Witnesses in Pittsburgh in 1870. They were originally known as "Bible Students," and after a schism in the group shortly before 1920 the folks loyal to what they saw as the teachings of Russell adopted the "Jehovah's Witness" moniker.
Huzzah. I have a feeling that no one will be shouting
"I'm wrong, Chris, I'm wrong!"
this coming Wednesday. Funny how that works.
UPDATE: It appears that some of Russell's early followers confusingly were Seventh Adventists (which only makes that answer more chronologically incorrect), and that the JWs are claiming a founding date of either 1872 or "early 1870s" in their own lit. My initial reference does read 1870.