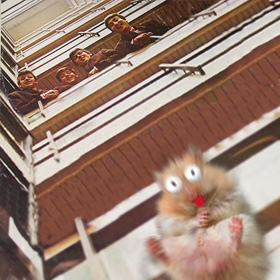 This thread
is one of the funnier Photoshopping contests I've seen. The concept here was for the contestants to impress each other with images of
what we didn't know was going on just beyond the bounds
of the cover art that we've known for all these years. The best entries seem to be the ones that stuck closest to the concept, instead of merely changing the art however they felt.


You can thank WFMU's
Beware of the Blog
for making me, hence you, aware of this thread. FARK.com tends to have a couple of Photoshopping contests per day; if you like visual puns and aren't averse to juvenile humor, these can be a riot.